If you're a fan of mysteries you know that to solve a murder, most fictional detectives will attempt to identify which suspect had the: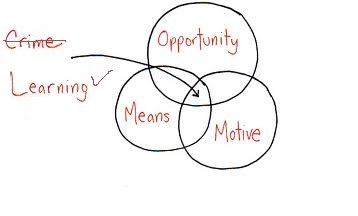 Means
Motive, and
Opportunity
It's not made up; this is the basis for making a successful prosecution under criminal law (not just this but it's the foundation). As an organization you can apply the same approach to ensure you are adequately orienting, training and supporting a new employee (or any employee for that matter):
Means is the ability of a suspect to have commited the crime. In terms of a new employee:
Does the employee have the required abilities? If no, what training, coaching or other means can you initiate to help them increase their abilities?
Does the employee have the necessary tools? Too many times new employees are asked to jump right in (you're hired, not start producing) without providing them with the tools to do so and do so efficiently. This can include everything from documented instructions, to the correct uniform, to the latest software, to the passcode to the restroom!
Motive is the reason a suspect could have committed the crime. Many new employees start a new job extremely motivated, only to be let down by their new employer within the first few days (or even minutes). It's similar to buyer's remorse.
Are you prepared for the new employee? Are you preparing them? Is there an onboarding process they should follow? If no, a great place to start is www.theonboardingco.com.
Are you treating their arrival with the respect it deserves (you don't need balloons to show a new employee you're excited they are there)?
Are you making it clear how important they are to the team's success and the company's success?
Are you showing them upstream/downstream – how their work affects others and vice versa?
Are you making their first few days productive (new employees would rather have too much to do rather than too little to do, but not too too much)?
Opportunity is whether the suspect had the chance to commit the crime (i.e. if they were on vacation when the crime occurred, they probably didn't do it). Are you giving your new employee a chance to succeed?!
Do you have a well-designed and executed onboarding or orientation process? If not, a great place to start is www.theonboardingco.com.
Are you providing all the knowledge they need?
Are you being clear about what you expect?
Are you including them in meetings and decisions?
Are you providing feedback? Are you being encouraging?
Means, motive and opportunity. It's a great mantra to follow and think about often. Not sure what to do if your efforts to induct a new employee are not up to snuff. The two web sites are a great place to start: www.novitatraining.com and www.theonboardingco.com.
Let's hear from you: how do you apply means, motive and opportunity?