What "Hire for Attitude" Means for Your Training Department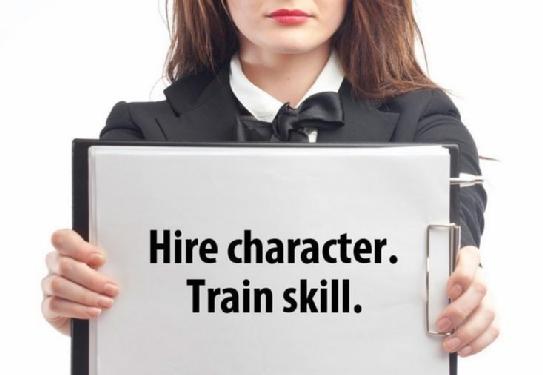 A "hire for attitude, train for aptitude" strategy has merit and can work for certain organizations. It requires, however, changes (potentially significant ones) to your company's infrastructure, process and organizational design, and – above all – an increase in your company's training budget.
Interestingly enough, it also requires a change in attitude on the part of your Human Resources and Training departments.
The strategy requires:
Training, training, and more training, since the basic principle is hiring employees who don't necessarily have all the needed skills. And not just formal delivery methods but OTJ, informal learning, social learning, etc.
The above means – in other words – get ready to produce substantial amounts of work, which means more analysis, more design, more internal employees, more vendors, and an LMS if you don't have one already.
The above also means your HR and T&D departments have to shift their focus (and budget dollars) on skills training, and potentially away from things like engagement strategies or emotional intelligence training (this last one should be okay since hiring for EI is another principle of the "hire for attitude" strategy).
In addition to training, a formal and comprehensive mentoring program needs to be in place – again to address the potential lack of skills.
And with so much potential skills training in the early-goings, you need to make sure a new employee's onboarding experience is top-notch because no matter how great is their attitude you may overwhelm them.
Document everything. Processes, templates, instructions, etc. These form the basis for the skills training. There can be nothing left in someone's head only.
Performance support: employees who don't have the needed skills need easy access to information which may assist them in their daily tasks.
Obviously, you need to revise your job descriptions, not to mention your recruiting, interviewing and hiring strategy and process.
Managers and those involved in recruiting will then need to be trained on the new process.
Restraint: You can't take this strategy too far; they have to have some required skills!
Finally, if you're going to hire for attitude, then it requires knowing what the correct attitude for the position is; this is a whole different kind of competency assessment.
You can probably guess that all of the above requires budget dollars, maybe significant amounts, so a cost-benefit / ROI analysis is probably a good idea.
Will your company adopt a "hire for attitude" strategy, change the needed attitudes and processes internally and – most of all – fund the needed investments?