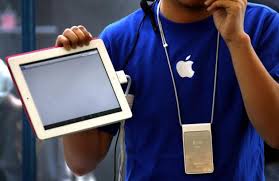 Steve Jobs once said (and I'm paraphrasing) that Apple creates products that people don't even know they want or need. Apple's success aside, think about what a challenge it is to market and sell a product that people have never seen and perhaps don't understand. Which is why the Apple Stores were genius, not just because of their design but because they were a place for people to learn about the products they ended-up buying and being insanely loyal to.
After all, what's more powerful than your potential customers learning they can't do without your product or service – rather than having to convince them of that? Besides Apple, there are several companies that have excelled in using education as part of their sales process: Whole Foods, Olive Garden, and NASCAR. But it's not just consumer product companies. In fact, the normally-longer sales cycle in a b-to-b sales process is ideal for training your (remember, we're talking about potential) customers to buy what you're selling.
You can Interject Education into Your Sales Process in a Variety of Ways:
In-Person Learning events – The best way to get people to buy what you're selling is to teach them how to use it and what it's used for (which are two different things).
Customer Summits – Rather than flying sales people all over the world to woo prospects, bring them together to meet your entire team and teach them how to understand and benefit from your products and services.
Online Learning – Can take the shape of actual courses but also educational content on your web site or even an email.
Storytelling – Think J.Peterman. People love to spend money on products that have a "story" behind them.
Video and Podcasts – Another great medium and useful when bringing people together might be too costly.

Mobile Learning – Stay top-of-mind with customers about new features, add-ons and more (up-selling).
One important note, whatever method you choose, it has to be truly educational and done in an "instructionally sound" manner. It can't be about sales or marketing – customers can smell even a veiled sales pitch. I know it's tempting to "always be closing" and it might be uncomfortable at first but don't worry, you'll end up actually selling more and creating more loyal customers. Why? Well, think about why we train. To educate, yes, but it's really about changing behavior and the behavior you want is for them to act; in other words… buy!
Why it works
Training your prospects helps you sell by:
Focusing on value not price.

Differentiating you from your competitors.

Increasing interest in a category.

Motivating a consumer to act (buy).

Leading to brand loyalty and repeat business.
A warning… you have to be okay that some of these potential customers will take your information and walk away. But show me a salesperson who's not used to that.
To Get Started
You'll need to:
Identify the training opportunities that exist for your products & services (what to teach).

Create a strategy for effectively training your customers (how to teach).

Develop your own training events and media delivery platforms.

Evaluate the effectiveness of your training plan.
To be successful you'll need a rare mix of sales, marketing and training expertise in each discipline. If you're missing one, the project could be compromised.
For example, we at Novita Training are experts in training and we partner with clients who have the sales and marketing savvy. Together, we create customer summits and other educational events for potential customers.
Contact us to learn more and how we might be able to help teach your customers to buy what you're selling.